Produce your own nitrogen on site and become your own supplier
Nitrogen is a gas widely used in laser cutting for its inert properties that prevent any reaction with the molten metal. It is traditionally supplied to industrial sites by trucks, and stored in high pressure cylinders or cryogenic tanks. This method of supply is expensive, polluting and generates constraints and risks for users. However, there are solutions to produce nitrogen on site by generator. This simple process, whose efficiency has been demonstrated, has many advantages.
Why produce nitrogen on site?
Autonomy / security of supply
No logistic constraints
Continuous production
Cost reduction
Increased safety
Optimal cutting quality
NOVAIR's nitrogen production solutions for laser cutting
For the laser cutting industry, NOVAIR has designed NITROSWING LASERPACK, an innovative nitrogen production and on-site cylinder filling solution capable of supplying all types of laser, fiber or CO2 machines. This solution allows a continuous and autonomous supply of nitrogen according to the specifications required by the cutting machines.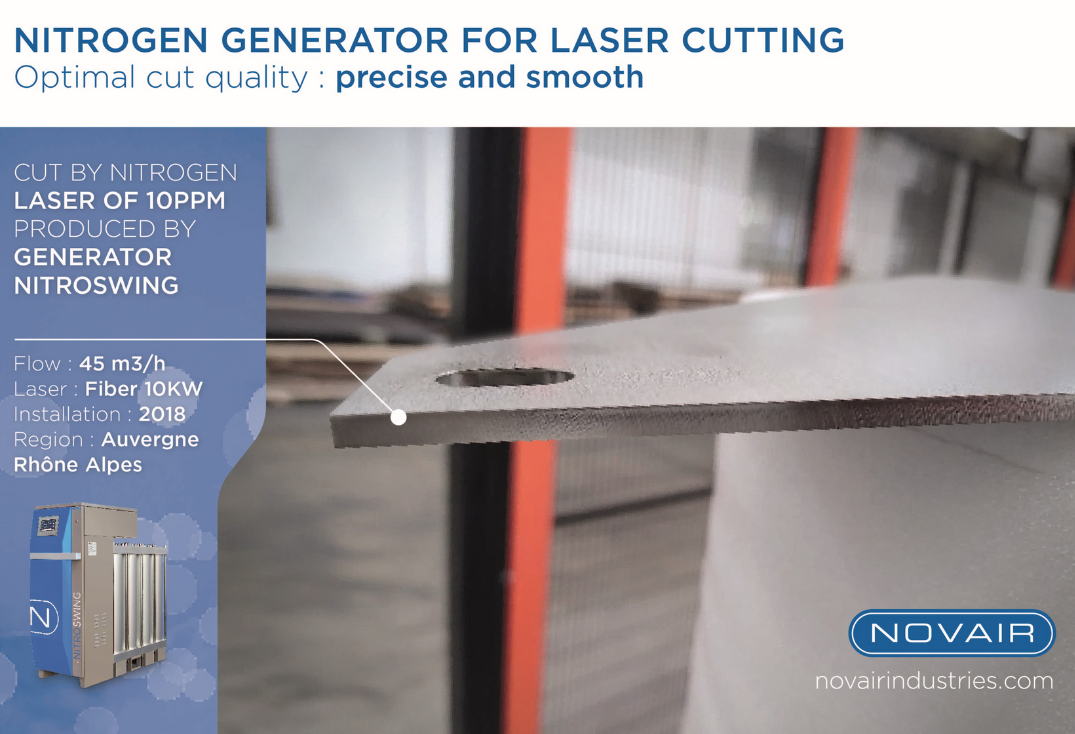 Bateo, a company specialized in locksmithing and precision metalwork, uses a NOVAIR on-site nitrogen production solution to supply its latest generation fiber laser. Totally convinced, the company manager applauds the simplicity of the process and the independence gained for its gas supply, as well as the savings made. Not to mention the ecological aspect of the solution, which avoids recurring gas deliveries and the associated CO2 emissions.
In the Press
Discover the latest article on NOVAIR's solutions for laser cutting published in Metal Interface.
NOVAIR also offers solutions for :
Welding and cutting
Heat treatment of ferrous and non-ferrous materials
Oxycutting